Book Details:
Author: N.E. Conneely
Narrators: Jeff Hays, Soundbooth Theater
Length: 7  hours 25 minutes
Publisher: N.E. Conneely⎮2018
Genre: Paranormal, Supernatural
Series: A Witch's Path, Book 4
Release date: Jan. 16, 2018
---
Book Synopsis:
Michelle has been figuring out what her life is like now that the demon has been killed, and Sylvia and Varro are dead. Even the clans of witches trying to attract her to their way of life have backed off and given her a chance to grieve. Her relationship with Elron is stronger than ever, but there are things left unsaid.
On the way to her parents' wedding, the delicate calm she'd been living in is broken. Witches are out for her blood, her family is caught in the crossfire, and friendships are threatened. Work doesn't let up either, and she partners up with Elron to deal with magic gone wild. Michelle finds that her problems are larger than one clan of witches, and is forced to choose between the people she holds dear and the way of life she loves.
This is the fourth book in a series, following A Witch's Trial. It is a standalone novel, however, your experience will be greatly enhanced if you've heard the previous books.
---
Buy A Witch's Concern on Audible:

---
About The Author:
N.E. Conneely lives in northern Georgia with her dog and a mountain of books. They sweat through the summer and freeze through the winter, and life as they know it comes to an end when so much as a single snowflake falls out of the sky. For fun, N.E. plays with her dog, reads, knits, crochets, paints, and does tie-dyeing and origami. She makes a great pizza and is currently negotiating with her husband about raising sea monkeys and growing a vegetable garden.
---
About The Narrators:
Jeff Hays has made a name for himself in the audio book world by creating immersive experiences out of his productions. His versatility and authenticity in voicing characters, expressive low-impact narration, and dedication to offering the highest quality audio possible has earned him a loyal following of listeners. Having been fascinated with sound since he can remember, Jeff takes his background of composing and producing music, and his continual consumption of the avalanche of fictional media we all experience in these modern times, and uses it to inform his style of story telling in the audiobook realm. And now, having produced more than 80 audio books and perfecting his craft, using the namesake of his live streaming narration show, the Soundbooth Theater shingle has been hung. Soundbooth Theater is dedicated to applying Jeff's production methods to new audio books with other budding narrator talent, and expanding his scope from audio books, to voicing and producing animation.
---
Laurie got into voiceover by studying with the legendary dialect expert Paul Meier and hosting the teen program for a nonprofit for the blind, Kansas Audio Reader. She speaks French fluently and, before diving into audiobooks, lived and performed for some time in France. She's racking up some bizarre credits, playing a range of characters onscreen from Disney princesses to horror scream queens, and proving her audio versatility by narrating everything from cowboy romances to action-packed GameLit fantasy trolls. You can also catch her in a few VR video games. Her favorite is playing confident, power-hungry, whip-smart anti-heroines. Like Jeff Hays, she hails from the Kansas City area but currently lives in Atlanta.
---
Tour Schedule:
Apr. 5th: 
Dab of Darkness Audiobook Reviews
Apr. 6th: 
Apr. 7th: 
Apr. 8th: 
Apr. 9th: 
Apr. 10th: 
Apr. 11th: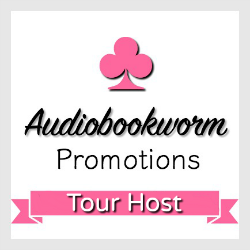 ➜Sign up as a host here